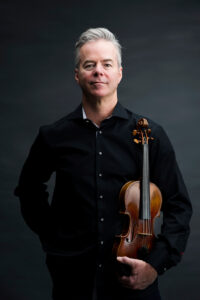 Frank Almond, violin
Violinist Frank Almond held the Charles and Marie Caestecker Concertmaster Chair at the Milwaukee Symphony Orchestra for 25 years until 2020. He also held the ConcertMaster position with the Rotterdam Philharmonic with Valery Gergiev and Guest Concertmaster of the London Symphony Orchestra with Kurt Masur.
Frank regularly performs as a soloist with the Milwaukee Symphony Orchestra and as soloist and chamber musician throughout the U-S and Europe. He is the founder of his own chamber music series in Milwaukee, Frankly Music, consistently recognized for innovative programming and its ability to attract leading performers from around the world.
At 17, Frank Almond was one of the youngest prizewinners in the history of the Nicolo Paganini Competition in Genoa, Italy, and five years later was one of two American prizewinners at the Eighth International Tchaikovsky Competition in Moscow, which was documented in an award-winning PBS film.
His extensive recording discography includes a wide range of repertoire on various labels that have garnered multiple Grammy nominations.
His most recent series of recordings, A Violin's Life, chronicles the extraordinary history and lineage of his current violin, the 1715 Lipiński Stradivarius. This instrument has direct ties to Giuseppe Tartini, Edvard Grieg, Johannes Brahms, and Robert and Clara Schumann.
On January 27, 2014, the "ex-Lipiński" Stradivarius was stolen from Mr. Almond in an armed robbery after a concert. The violin was recovered nine days later, and the story continues to make headlines around the world. The robbery and recovery are the subject of a documentary film, "Plucked," premiering at the Tribeca Film Festival in April (2019). Frank will has also been featured on a hit edition of" The Moth Radio Hour" from Alice Tully Hall, the critically acclaimed story-telling program heard on Public Radio stations nationwide.
Frank holds two degrees from the Juilliard School, where he studied with Dorothy Delay, Michael Tseitlin, Felix Galimir, and Joseph Silverstein.  He currently serves on the Faculty at Roosevelt University in Chicago and is the Johnston Artist-in-Residence at the Milwaukee Youth Symphony, one of the largest youth arts programs in the United States. Previous teaching positions include positions at Northwestern University and Texas Christian University.
Frank Almond writes an online column, as he admits, "instead of practicing."  Non divisi offers his thoughts, hopes and expectations for the present and future of classical music.
More information about Frankly Music, A Violin's Life and the Lipiński Stradivarius is available at frankalmond.com.
Janet Arms, flute
A charismatic and versatile flutist, Janet Arms has been a member of the New York City Opera orchestra since 1988. She has also performed and recorded with the New York Philharmonic, San Francisco Ballet, Metropolitan Opera, as guest principal flutist with the St. Louis Symphony in the US and throughout Europe, as well as with the Boston Symphony Orchestra in Boston, at Tanglewood, and on tour. She had a long-standing association with the Bard Festival Orchestra and the American Symphony Orchestra, has worked with the NYC Ballet, American Ballet Theater, New Jersey Symphony, as well as subbed on Broadway in The King and I, Finding Neverland and the Radio City Christmas Spectacular.
As a faculty member of the Hartt School, Janet holds the title of Senior Artist Teacher as well as the Associate Chair of Chamber Music of Winds and Brass. As a newly appointed member of the flute faculty, Janet Arms is now teaching at the John J. Cali School of Music at Montclair State University, where she started in the fall of 2018. She has been a faculty member of the Pacific Region International Summer Music Academy – PRISMA in Powell River, BC for many years and has spent several summers in Brazil, teaching and performing with the faculty of the renowned Festival Eleazar de Carvalho in Fortaleza. She spent one recent summer performing chamber music in Greece at the St George International Music Festival.
As an active performer in commercial recording here in NYC, Janet can be heard on a number of film documentaries for PBS. Scored by Michael Bacon, these include Jewish Americans, The Kennedy Years, and The Roosevelt Years to name a few. She made her recital debut at Carnegie Hall as a prizewinner of the Concert Artists International competition while completing her Masters degree at Juilliard.
Ms. Arms' chamber music career has included appearances with her NYC Opera colleagues at Lincoln Center, performances at the Eastern Shore Chamber Music Festival, with the Concordia Chamber Players, the New York Chamber Soloists and appearances at PRISMA with her colleagues from the Chicago Symphony, Orchestre Symphonique de Montreal, LA Philharmonic, Vancouver Symphony, and Victoria Symphony Orchestra.
Her most recent chamber music project, The Pandora Duo, is a collaboration with guitarist and fellow Hartt faculty member Christopher Ladd. Concertizing throughout the northeast, the duo is busy recording and working with living composers, promoting new music and adding new works to their ever expanding repertoire.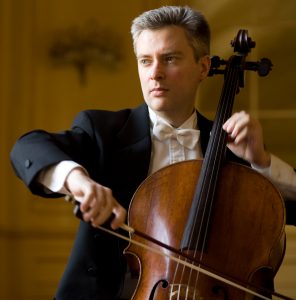 Richard Hirschl, cello
Richard Hirschl joined the Chicago Symphony Orchestra's cello section in 1989. A native of Washington, Missouri, he began cello lessons with his father, an amateur cellist. His intermediate studies were with Savely Schuster, associate principal cellist of the St. Louis Symphony. He was accepted into the class of Leonard Rose and Channing Robbins at the Juilliard School, where he earned a bachelor's degree in 1987 and a master's degree in 1988.
Hirschl was an associate teacher at Juilliard before moving to Chicago. He was the winner of the 1988 Juilliard Concerto Competition, 1988 Irving M. Klein International String Competition and 1980 St. Louis Symphony Scholarship Competition.
In addition to his New York debut with the Juilliard Orchestra at Avery Fisher Hall, Hirschl has given concerto performances with the Peoria Symphony, the Northwestern Indiana Symphony, the New Philharmonic, Ars Viva Symphony Orchestra, Jupiter Symphony, St. Louis Philharmonic, Maracaibo Symphony (Venezuela), National Repertory Orchestra, St. Louis Chamber Orchestra and Philharmonia Virtuosi of New York.
He has appeared in chamber music performances with celebrated pianists Daniel Barenboim, András Schiff and Ursula Oppens, cellists Yo-Yo Ma and Lynn Harrell and violinist Vadim Repin. He is on the faculty of the Chicago Conservatory for the Performing Arts at Roosevelt University and has a large class of private students. He plays a Venetian cello made by Matteo Goffriller in 1710 and a cello made in Chicago by William Whedbee in 2014. He and his wife Laura make their home in a downtown high-rise where they are the proud parents of Ava Clare and Vivian Rose Hirschl.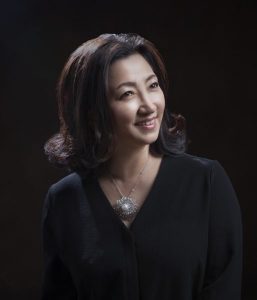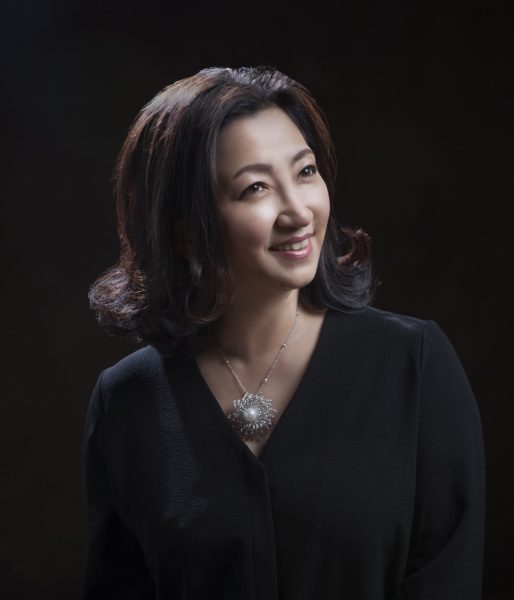 Kate Kyunghee Kim, voice
Soprano Kate Kyunghee Kim has delighted audiences with her concert and operatic performances throughout Europe, Asia, Latin America and the United States. Engagements for 2020-21: "Schubert and Manhae" concert at the Peace, Life, and Zone International Music Festival, Korea; "Artist Showcase" at the Opera America Center, NY; a Gala Concert and a virtual video concert sponsored by the Giulio Gari Foundation; a Virtual Music Salon at the Waterfall Gallery in New York, in collaboration with the Korea Music Foundation; the Carnegie Music Series solo recital in Nyack, New York. Other recent performances: a solo recital at the Opera America National Opera Center in New York; soloist in Mozart's Exultate, jubilate with Bergen Symphony Orchestra; Saint-Saëns' Oratorio de Noël with Central Park West Presbyterian Church in New York; World Premiere Contemporary Music at Symphony Space in New York; appearances with Voce con Trio in New Jersey and Pennsylvania. She has also appeared as soloist with Concierto Sinfonia de Gala in Lima, Peru; sang additional concerts in Mexico and New York; soloist in Bach's Mass in B Minor with St. George Episcopal in Newburgh, NY. Ms. Kim made her professional recital debut in her native Seoul, Korea, followed by a European debut in Vienna with the Richard Wagner Opera Society. She has appeared many times in China, where one of her performances was the first professional Western recital ever presented in the Hunan province.
Ms. Kim has been a soloist with Music from Above Foundation, teaching master classes and performing in orchestral and televised performances, such as Concierto con Orchestra Sinfonica Juvenile de Yucatan in Merida, Mexico; Anfiteatro Eva Peron del Parque Centenario in Argentina; Universidad Mariano Galvez in Guatemala and in Paraguay, as well as concerts in Turkey and Kazakhstan. Known for her elegant interpretations, her opera roles, primarily performed with Teatro Carlo Felice, Lyric Opera of New Jersey and Bronx Opera, include Violetta in La Traviata, Mimi in La Bohème, the title role in Madama Butterfly, Liu in Turandot, Magda in La Rondine, Micäela in Carmen and Pamina in Die Zauberflöte.  As an oratorio/symphonic soloist, audiences have also enjoyed her performances of Beethoven's Ninth Symphony, Haydn's The Creation, Mendelssohn's Elijah and Handel's Messiah at esteemed venues, including Avery Fisher Hall (at Lincoln Center) and Carnegie Hall.
As a frequent soloist with Westchester Symphonic Winds in New York, Ms. Kim most recently performed in a program entitled Ayre & Space, as well as singing in Washington, DC's One Month Festival, a program featuring performing artists in 27 countries over a one month period.
Ms. Kim received her Bachelor's degree from Seoul National University and her Master's degree in Voice from the Manhattan School of Music.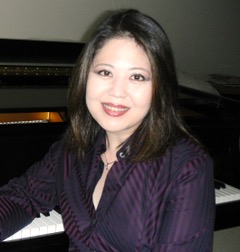 Lisa Nakamichi, piano
Lisa Nakamichi, known for her exquisite performances of Mozart has been called "born to play Mozart" by Honolulu Advertiser critic on her concerto performance with the Honolulu Symphony Orchestra.
The successful Tokyo solo debut recital sponsored by the Japanese Ministry of Culture launched Ms. Nakamichi's career in Japan.  Ms. Nakamichi has since appeared in concerto performances throughout Japan among them the New Star Japan Philharmonic in Tokyo, the Kyushu Philharmonic in Nagasaki, Kyoto Symphony in Kyoto and the Hiroshima Symphony in Hiroshima.  Her performance with the Hiroshima Symphony was reviewed as "brilliant Mozart playing".
Most recently, in February 2019, Nakamichi appeared with world-acclaimed pianist, Jon Nakamatsu in Mozart's double concerto with the Hawaii Symphony Orchestra conducted by Maestro Hans Graf.  Concerto performances with the Honolulu Symphony and Hawaii Symphony have totaled over a dozen times and her performance of the Mozart Concerto was reviewed in the Honolulu Advertiser as "above all beautiful".  Notable performances with the HSO includes the inaugural concert of the Hawaii Symphony Orchestra under the baton of Maestro Naoto Ohtomo in March 2012.  Nakamichi has also collaborated with the Hawaii Youth Symphony in a performance of Gershwin's Rhapsody in Blue, celebrating Louis Vuitton's 150th anniversary concert. 
Ms. Nakamichi has appeared in numerous recitals in major cities of the U.S., Canada, Europe and Japan.  Notable venues include the residence of the Japanese Ambassador to the United States in Washington, D.C., Consul General of Japan in Honolulu, Corcoran Art Theater (Washington, D.C.), Tokyo Bunka Kaikan (Tokyo, Japan), Eroica Saal (Vienna, Austria), residence of the Japanese Ambassador to Austria in Vienna, Libby Hall (University of Utah), University of Alaska in Anchorage, Montreal City Hall (Montreal, Canada), Portland Japanese Garden (Portland, Oregon), among others.
Since 2000, Ms. Nakamichi has been on the artists' roster of the Japan Foundation for Regional Art Activities (JAFRA).  She has appeared throughout Japan in the Foundation's outreach program holding workshops, masterclasses and performances to promote the regional development in arts and culture.
As juror, Nakamichi has served on the jury of the Cooper International Piano Competition (Cleveland), Waring International Piano Competition (Palm Springs), and Alaska MTA, where she also conducted masterclasses.  In August 2018, she served on the jury of the PTNA Competition (Piano Teachers' National Association) for their national finals in Tokyo.
Ms. Nakamichi is the founding artistic director of the Aloha International Piano Festival which is held annually in June at the Hawaii Convention Center.  Focusing on the highest level of piano education by world acclaimed pianists, the festival hosts local students and students from the mainland U.S. and Asia. 
Lisa Nakamichi received her Bachelor's and Master's degrees from The Juilliard School under the tutelage of Martin Canin and doctoral degree awarded from the State University of New York at Stony Brook.